#TechConf – Facebook F8 2017: what you should remember
Customer Experience
20 April 2017
This week was the 2017 edition of F8: the annual conference where Facebook announces new features for its platform and products.
Here are the latest ones:
A new

augmented reality

 

platform which allows to create augmented pics with object recognition and powerful filter features. With this new platform, Facebook will propose a new filter advertising format to brands (check out the 

Nike filter

). Should Snapchat be worried?
Facebook Spaces, the new

virtual reality

 social experience brought by the Oculus Rift helmet, offers the opportunity to interact with your friends via an avatar (

see demo

). You can also use your avatar to make video calls through Messenger.
Messenger v2.0

Facebook started with a few insights about its

messaging

 service, announcing that 2 billion messages are now exchanged between brands and users each month, and that 100,000 bots have been built up to date

Discovery feature fosters the discovery of brand and business bots

Parametric QR codes activate different functionalities based on which code was scanned. For instance, a restaurant could put a different code on each table to pass along to the

bot

 where food should be served.

Chat extensions will add new rich media features to Messenger (e.g.: broadcasting music via Spotify or Apple Music extensions)

AI-powered smart replies bring intelligence to Messenger discussions by providing automatic messages generated from other Facebook brand content (i.e.: fan page posts)

More information about this new major release on

Facebook for developers blog

and on the

 platform changelog
Facebook Analytics

Analytics

gets smarter with a

machine learning

 boost and

greater customisability

, thus becoming a source of valuable customer insights for marketers (and not just a developer tool anymore).

With

Custom Dashboards

, it is now possible for marketers to gather their favorite reports on a single screen, thus putting what's important to them front and center.

Omni-channel analytics

is extended to fan Pages and in-store sales. Brands can now measure and understand the interactions users have with their Page alongside their activity on other digital assets (website, app, bot…).
"For example, an e-commerce business can measure if people who comment on an item featured in their Page post go on to view an item on their website, or purchase it in their app. The ability to view customer behavior across different channels gives businesses a unique ability to learn about and optimise their full customer journey to drive growth."
(Facebook for Developers blog)
With Automated insights, Facebook Analytics aims at reducing your time spent searching for clues in analytics tools. This new feature will leverage machine learning and artificial intelligence to easily bring valuable insights to marketers.
"Using advanced machine learning and artificial intelligence, Automated insights enable you to see insights such as changes in purchases for a new version of your app, or variations in engagement across people in different cities."
(Facebook for Developers blog)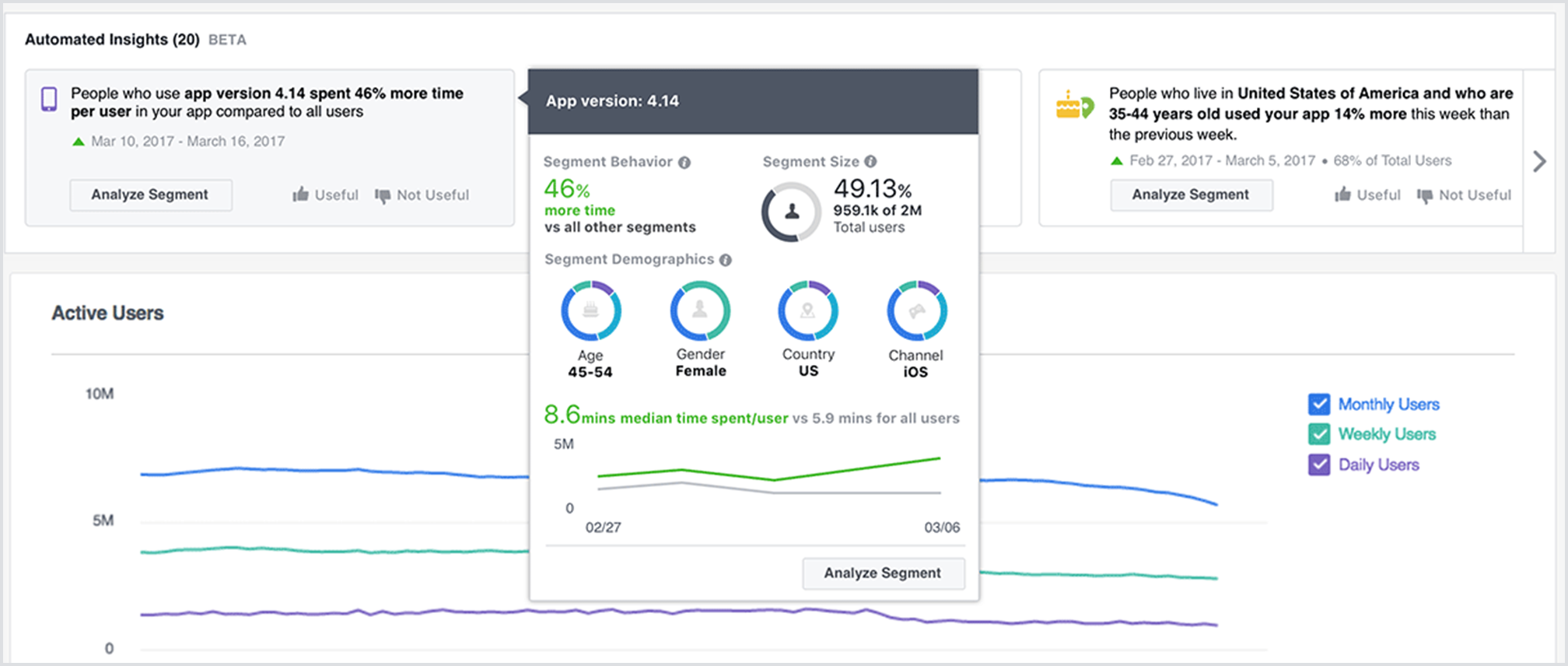 As you will have noticed, most of these announcements reveal a strong focus of the Menlo Park group towards Artificial Intelligence, to boost user experience as well as business benefits. See you in 2018 for more exciting news!
Want to learn more? Catch-up the keynote here or read the Twitter Moment feed!